Concerts & Music
If you love music, then Music at the Movies is for you! Join us in cinemas across Canada for music documentaries, concert films and music movies where you can celebrate your favourite artists with other fans!
Synopsis: Muse, the world renowned multi-platinum selling and multi-award winning band, embarked on their ambitious Drones World Tour in 2015-16, playing over 130 dates across the globe. The New York Times has described the Muse live experience as "an endless build-up, heading for one peak after another — is what a Muse concert sets out to deliver by every means available." Here, we find the band at the height of their powers, creating an unforgettable fan experience that demands to be seen on the big screen.
Date:
July 12, 2018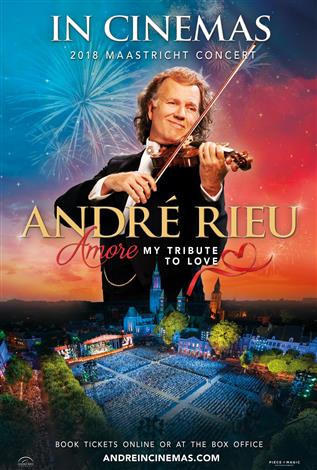 Synopsis: Known to millions as 'The King of Waltz', André Rieu is one of the world's most popular music artists. His legendary annual Maastricht concert is the most eagerly anticipated cinema event of the year, last year setting new box office records in several countries. Set against the stunning medieval backdrop of the town square in André's Dutch hometown, the spectacular Maastricht concert features the maestro in his element, along with his 60-piece Johann Strauss Orchestra, sopranos, tenors and very special guests. André delivers an unforgettable musical experience full of humor, fun and emotion for all ages. This presentation of André Rieu's 2018 Maastricht Concert in Cinemas features host Charlotte Hawkins, who conducts an interview with André Rieu the moment he steps off stage, exclusively for cinema audiences. This summer it will be all about the world of love! Amore, my tribute to love is André's tribute to love, the love for music and for both of his families : the small one, his wife and children - and the big one, the Johann Strauss Orchestra. Take a front row seat and experience this spectacular musical event on the big screen. Enjoy backstage access, interviews with André and his special guests, musical favourites and much, much more, exclusive to cinema.
Dates:
July 28, 2018
July 29, 2018
August 1, 2018
August 4, 2018
August 8, 2018
August 12, 2018
Synopsis: Regarded as one of the world's greatest tenors, Jonas Kaufmann has captivated audiences across the globe with his incredible voice. Join him this summer for a spectacular outdoor concert, captured live at Berlin's iconic Waldbühne amphitheatre. The star tenor will perform famous arias and timeless Italian songs from his bestselling album Dolce Vita, in what promises to be a magical night of music under the stars. Duration is two hours including a 20 minutes interval.
Dates:
September 1, 2018
September 2, 2018
September 3, 2018
September 4, 2018
September 5, 2018
* Presentations may not be available at all participating theatres for all advertised dates.